Date Released: June 5th, 2008.
Date Rewarded: June 12th, 2008.

A Chomby was walking down a path one day when Jhudora appeared in front of it. "Solve this puzzle, and you may pass," she said.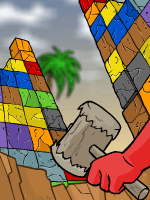 Suppose you're playing Destruct-O-Match III, and, on level one of Classic mode, you find that every block is the same colour!
How many points will you get for completing level one, assuming no powerups? Please submit only a number as your answer, with no extra information, or your answer may be disqualified.
Prize



Destruct-O-Match Stamp
Click to show/hide solution