Date released: June 27th, 2001.
Date rewarded: July 6th, 2001.
Two kings of Sakhmet from history were King Galat-Ra the Lupe and King Hephaes-Ru the Kacheek. Galat-Ra died 120 years after Hephaes-Ru was born. Their combined ages when they died was 100 years. Hephaes-Ru died in the year 40 B.N. (Before Neopia).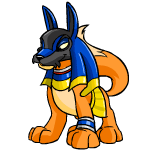 In what year was King Galat-Ra born?
Prize

Geb
Click to show/hide solution