Date Released: June 19th, 2008.
Date Rewarded: June 26th, 2008.
Jhudora was walking down a path one day when a Chomby appeared in front of it. "Solve this puzzle, and you may pass," it said.
An ancient tomb in the Lost Desert has the following grid of numbers engraved on the tomb door: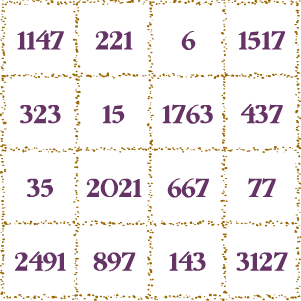 If the correct numbers are engraved on the tomb door, it will open. However, one of these numbers is wrong.
If you take the wrong number on this grid, and multiply it by the number it should be, what number would you get? For example, if the wrong number was 456 and you knew the correct number was 465, you would multiply the two and submit the answer "212040". Please only submit the answer as a number; do not show your work, or submit ANY information other than the answer. Otherwise, your submission may be disqualified.
Prize

Lost Desert Map Scroll
Click to show/hide solution