Date released: August 10th, 2001.
Date rewarded: August 14th, 2001.
'
Excuse me, Slave
', said Princess Vyssa, '
I have a job for you
'. '
What is it?
', Burlak groaned??? Princess Vyssa handed the sculptor a big ball of clay. '
I would like some decorations for my new palace. I want you to build me lots of little pyramids out of this clay. The base has to measure 8 centimeters by 8 centimeters, and they have to be 6 centimeters high.
.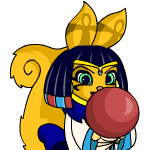 Burlak looked at the ball of clay, and measured it. It's diameter was 20 centimeters, and it seemed to be a perfect sphere. He wondered how many pyramids he could make...
do you know?
Click to show/hide solution