Date Released: May 15th, 2001.
Date Rewarded: May 23rd, 2001.
There are six Moehogs travelling to Neopia Central, and each Moehog is carrying six baskets. In each basket are six Puppyblews, and each Puppyblew has had two baby Puppyblews. How many legs are there in total between all the Moehogs and Puppyblews?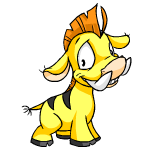 Click to show/hide solution